For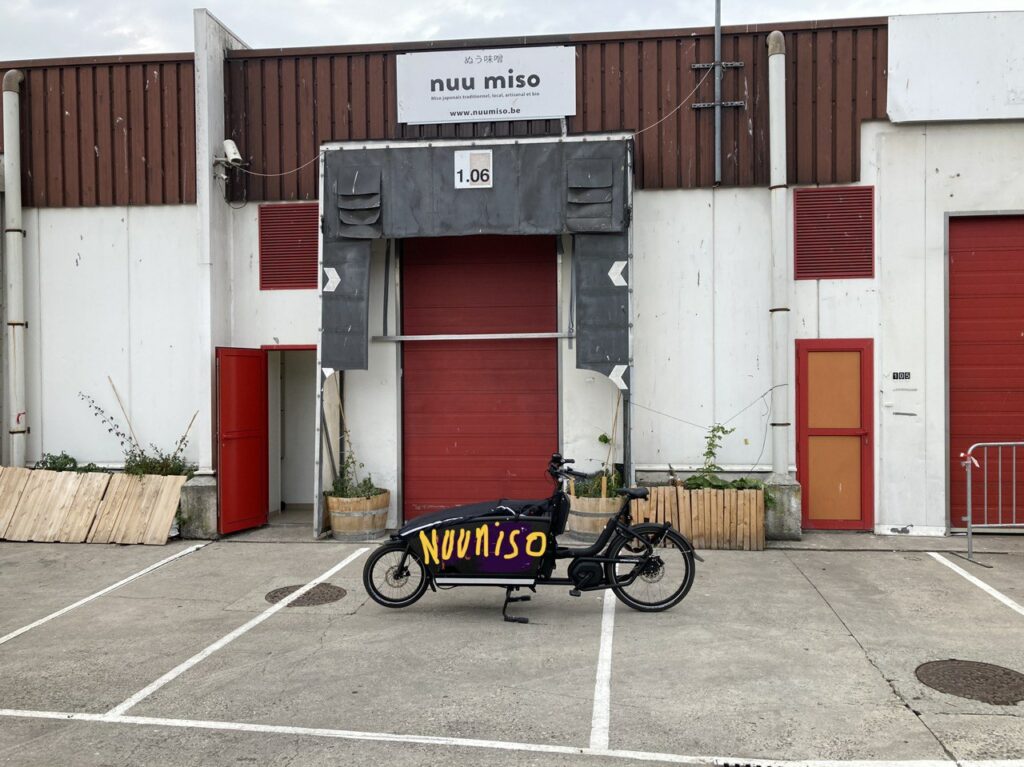 The professionals
Order = info@nuumiso.be / distribution every Friday (BXL)
*We need your VAT number
Transport costs:
In Brussels: 7€ /bike order
Outside Brussels: this will depend on the costs of our courier service, please inquire by email ( info @nuumiso.be)
*InBelgium, from an order of 150€, the delivery is free!
*Outside Belgium, please contact us by email (info@nuumiso.be)
Red sweet miso of chickpeas BIO 1,2kg
Our red sweet chickpea miso is based on the traditional Japanese recipe, which is called 'Edo (old name of Tokyo) ama miso (江戸甘味噌)': it is a rice miso with a deceptive red color since it is low in salt (6%) and classified as a sweet miso.
It is often used in gourmet restaurants, integrated into sauces, used as a broth, or even used in the composition of desserts!
Organic dry rice koji 1kg
Koji is a ferment derived from the mold of several ascomycetes (fungi), Aspergillus Oryzae (Sojae, Awamori, etc.), which is found and cultivated only in Japan. It is the base of: sake, sho-chu, mirin, vinegar, tsukemono, amazake, shoyu and miso.
Dry koji is used to accelerate the ripening of vegetables, meat or fish.
nuu miso offers koji made with local organic rice.
Organic Shoyu koji 1,2kg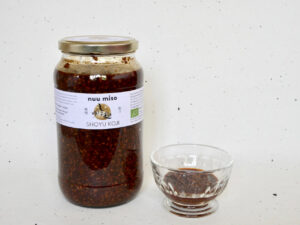 Shoyu-koji can be used on all types of dishes: vegetable stir-fry, rice, spreads, marinades for meat, fish, vegetables or in vinaigrette sauce for salads.
The koji adds sweetness to the shoyu and gives an Umami touch to your culinary preparations.
Organic Shio-koji 1,2kg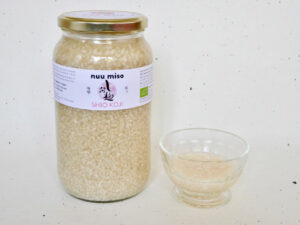 Shio koji is a fermented marinade prepared with salt, water and koji. It is a traditional Japanese condiment used for marinades: vegetable stir-fry, rice, spreads, meat, fish and vegetable marinades, or in vinaigrette sauce for salads.
Shio koji and Shoyu koji are becoming increasingly popular because of their taste and high enzyme content. Thanks to these, the shio koji transforms, as if by magic, the food it touches.
The shio koji can take many forms. The most common is a thick sauce of good consistency with a creamy white color.
You can also dilute the shio koji and grind it to obtain a more liquid and creamy sauce.
This mild, salty and slightly sweet sauce is a real flavor bomb!
The nuu miso cooperators
We make the delivery at home, only for the discovery baskets ( = 1 nuu miso point )
Closing of the order: every Thursday evening at 5pm >> Delivery every Friday
The order by e-mail = info@nuumiso.be

* delivery fees will be withdrawn with 250g of miso per basket.
You get +- 500g of miso instead of +-750g of miso
* If you order 2 baskets at the same time, 2 jars of 250g will be removed.
nuu miso thus covers the delivery costs. This makes it easier for us to organize the logistical work for distribution, given our small number of hands.
Thank you for your understanding.
Example of the basket without delivery
Basket picked up directly at nuu miso
* at the time of the sale & tasting every first Friday of the month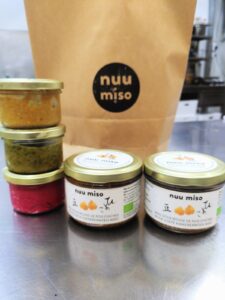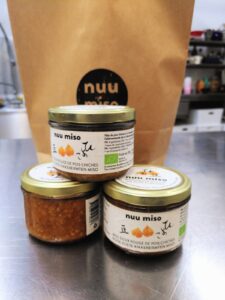 Example of the basket with delivery to your home
You order one (or more) basket(s) by e-mail until Thursday at 5 pm, you receive as these at home!